Who doesn't love some Chocolate Chip Cookies?! What about a cup of Hot Cocoa?! What about both of those together? Do I have your attention now?!?! :)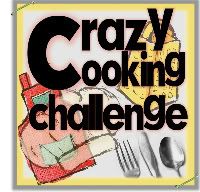 This is the 2nd month of the
CRAZY COOKING CHALLENGE
that Tina over at
MOM'S CRAZY COOKING
is hosting (click link for more info)! Last month we did the ULTIMATE Mac 'N Cheese recipe, I made
Traditional Mac 'N Cheese
(a little better than traditional I might add! ;) ). This month we were to search and bake the ULTIMATE Chocolate Chip Cookie. I was pumped for this one; so I did a search via Google and on the amazing
Pinterest
(click to follow me!) to find the yummiest Chocolate Chip Cookie. There are hundreds of Chocolate Chip Cookie recipes out in blog land, but I didn't want to make a normal "run of the mill" cookie either, something fun and different! So I decided to go with
Hot Chocolate Chip Cookies
that I found over at
The Whimsicle Cupcake
. Yes they are still Chocolate Chip Cookies, but made with Hot Chocolate packets.
I pretty much followed her recipe, but I added PB chips and didn't chill the dough. Below are the ingredients I used and what I did...
Ingredients:
2 sticks Salted Butter, room temp
1 cup Sugar
⅔ cups Light Brown Sugar
2 Eggs
1 tsp Vanilla
3-¼ cups Flour
4 packages (1 Oz. Packets, NOT Sugar-free) Hot Chocolate Mix with mini marshmallows (it's what I had on hand)
1 tsp Salt
1-¼ tsp Baking Soda
1 cup Each Semi-Sweet Chocolate Chips and Peanut Butter Chips (equal 2 cups)
Directions:
1. Preheat oven to 350 degrees. Line 2 baking sheets with parchment paper or silicone baking mats, set aside.
2. In a medium bowl, whisk together the flour, hot chocolate mix, salt and baking soda.
3. In a large bowl (I used my Kitchen-Aid bowl and mixer) cream butter and sugars until smooth and fluffy.
4. Beat in eggs, one at a time until incorporated well then add vanilla until combined.
5. Add the dry ingredients to the wet ingredients in 3 to 4 parts, making sure all is incorporated. Do not over-mix, mix until the dry ingredients just disappear.
6. Using a rubber spatula, fold in chocolate chips. It will be very thick, that is how it's supposed to be!
7. Scoop the dough onto prepared baking sheets (I used an ice cream scoop). Bake for 9-11 minutes.
Mine took right at 11 minutes. They might not spread out all the way, but as you let them cool they will.
8. Let cool for 5 minutes before removing from pan to a rack to cool.
Note: Adding cup up mini marshmallows would heighten the "hot chocolate" appeal. Cut 1/2 cup of mini marshmallows into quarters and mix in with the chocolate chips and proceed with the recipe.
These cookies were delightful...and yes, reminded me so much of Hot Chocolate. They are soft and chewy, just the way I like 'em!! The PB chips just added a little extra flair, but I think they would still be great without. However, I love Peanut Butter & Chocolate together!! Don't these cookies scream fall?! Love them, so fun! Thank you Jeanette over
The Whimsicle Cupcake
for sharing these yummy cookies!
Be sure to check out the other bloggers who are participating in the
challenge
, and vote for your favorite "Ultimate" Chocolate Chip Cookie recipe (click the "like" button). Don't forget to stop in and say HI!! ;)
Linking up too...
At Home With Haley
It's A Blog Party
The Girl Creative
Today's Creative Blog
Not So Homemade
The Shabby Creek Cottage
What Allie's Making Now
Somewhat Simple
Lovely Crafty Home
Just a Girl
The Sisters of the Wild West
Polka Dots on Parade
This Chick Cooks
Ginger Snap Crafts
Homemaker on a Dime
My Favorite Finds